Businesses large and small use TimeSheet Professional for their project-oriented time tracking needs
Insperity TimeSheet Professional and Sage TimeSheet, its predecessor, is functionally stable and no longer under development, but still have active and current user communities.
Deepak Sareen Associates still provide support and consultancy services to TimeSheet Professional and  Sage TimeSheet customers.
Office Timesheets is the recommended successor to Insperity TimeSheet Professional and Sage TimeSheet. It provides a very close functional match for all Timesheet's  functionality, together with the tools required to ensure a smooth effective and efficient conversion to Office Timesheets.
Users find Office Timesheets functionality very familiar, reducing the need for conversion training from TimeSheet Professional, which further eases the time required and cost of conversion.
The many benefits of moving to Office Timesheets include:-
Modern, current Web-based timesheets, with no need for desktop installs.
Mobile web client,  to use with an internet-enabled smartphone or tablet.
Enhanced reporting with Transaction Detail Reports and configurable SQL Views as well as Summary and Detail Reports.
Comprehensive rate management with rules-based billing rates.
Optional Time Billing edition provides comprehensive time, flat fee and expense billing functionality with tightly integrated billing configuration, options and features throughout the product and an extremely powerful invoice design engine with hundreds of built-in options for building customised invoice templates.
You can find out more about Office Timesheets here.
A little more information about Insperity TimeSheet Professional …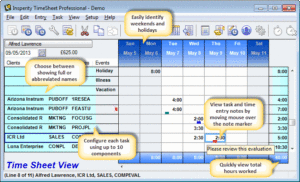 Simple, spreadsheet-style data entry
As a manager, you have full control of getting the information you need, when you need it and in the format you want it. It's quick to deploy, highly configurable and easy to use. You can customise the database and the reporting to the precision and depth you require.
Existing users have chosen TimeSheet Professional to improve their efficiency and profitability, through enhanced:
Time tracking
Expense tracking
Project tracking and costing
Project budgeting and scheduling
Automated invoicing
Project and client profitability analysis
Work in progress valuation and reporting
Deepak Sareen Associates has over 15 years experience of implementing TimeSheet and other time tracking and billing solutions for all sizes and types of business. It is the exclusive UK and European distributor for TimeSheet Professional.
Please visit our Insperity TimeSheet Professional web site for more detail and the 10-minute tour