A broad range of professional service firms including accountants, IFAs, solicitors and surveyors
  use Timeslips for ad hoc time and expense recording and comprehensive client billing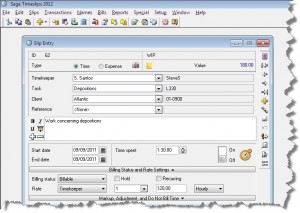 Quick and easy slip entry to record time or expenses
Sage Timeslips makes life simple, from time and expense capture, through client billing to in-depth reporting. It is ideal for up to 50 users. It is highly configurable and can be implemented quickly. It streamlines businesses and makes them more profitable, delivering a quick ROI.
Some typical users of Timeslips:
Accountants
Solicitors
IFAs
Architects
Planners
Surveyors
Patent and Trade Mark Attorneys
Health Care providers
Deepak Sareen Associates has over 15 years experience of implementing Timeslips and other time and expense tracking and billing solutions, for all sizes and types of business.
Please visit our Sage Timeslips web site for more detail and the 10-minute tour